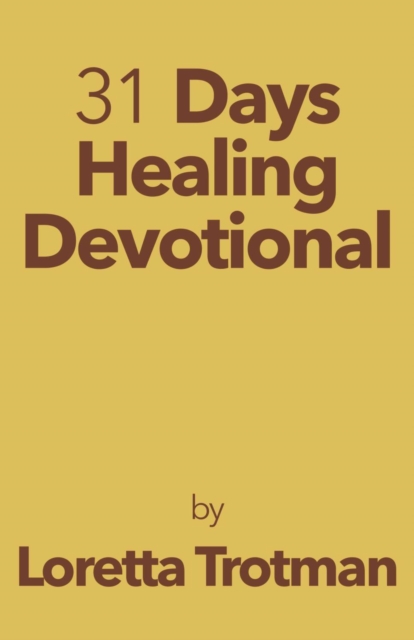 31 Days Healing Devotional
Disponibilitate:
LIVRARE IN 3-5 SAPTAMANI
(produsul este livrat din

Marea Britanie

)
Okian.ro este o LIBRARIE online de carte in limba engleza.
CITESTE MAI MULT
Detalii
Descriere RO
The purpose of this book is to reveal (from the Holy Bible - the Word of God) that in the Old Testament and New Testament, God wants us healed. I thank God for doctors who have made wonderful advancement in the medical field. Doctors help us through the process of natural healing, but Divine Healing comes from God.You don't need an appointment for the Great Physician Jesus Christ is always willing to heal us. The only prescription you will receive is the Word of God. Believe God's Word and receive it in your heart. Take it as your supernatural medicine. You can read/meditate on it day and night for there are no negative side effects. You can increase the biblical dosage if needed. As Jesus said to the two blind men, "And when he was come into the house, the blind men came to him: and Jesus saith unto them, believe ye that I am able to do this? They said unto him, Yea, Lord. Then touched he their eyes, saying, According to your faith be it unto you (Matthew 9:28-29 KJV)." Faith comes by hearing, and hearing by the Word of God (Romans 10:17 KJV). Act on God's Word believe and speak it! "We having the same spirit of faith, according as it is written, I believed, and therefore have I spoken; we also believe, and therefore speak (2 Corinthians 4:13 KJV)."Proverbs 4:20-22 (KJV) tells us that we must give attention to God's Word. Let our ears hear what God's Word is saying. Don't let God's Word depart from our eyes and keep them in our heart. For God's Word is life to those who seek and find them and health/healing to all our flesh.There are many more healing scriptures in the Bible, but I pray that this healing devotional will be a blessing to you, for it is God's will for you to be healed and made whole. I pray this in Jesus Name Amen!