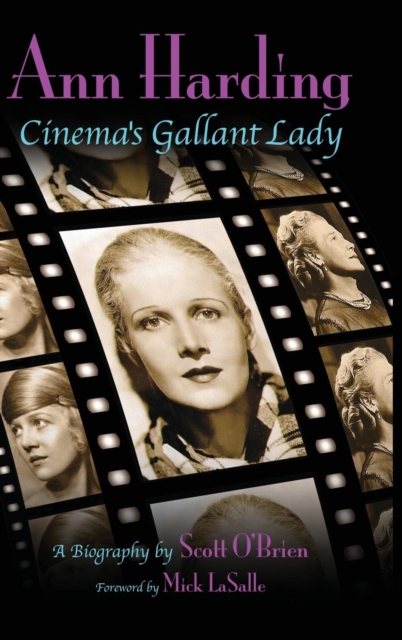 Ann Harding - Cinema's Gallant Lady (Hardback)
Disponibilitate:
LIVRARE IN 3-5 SAPTAMANI
(produsul este livrat din

Marea Britanie

)
Okian.ro este o LIBRARIE online de carte in limba engleza.
CITESTE MAI MULT
Detalii
Descriere RO
This is the HARDBACK version. Ann Harding. Laurence Oliver, who starred with her in Westward Passage (1932), referred to her as an "angel." Director Henry Hathaway, who directed her and Gary Cooper in Peter Ibbetson (1935), claimed she was a "bitch." Critics hailed her as the finest actress to venture from Broadway to Hollywood. The Ann Harding story follows her from humble beginnings as the daughter of a career army office who moved around constantly, to her youth settling in New York. After spending a year attending Bryn Mawr college, she found work as a clerk and freelance script reader with a film company. Then, she made her stage debut in 1921, and eight years later, she made her film debut in an early talkie, Paris Bound, opposite Fredric March. She was the Gallant Lady (1933), an unwed mother, who gives up baby for adoption and hopes to get it back when the adoptive mother dies. Her unique, natural screen presence in Holiday (1930) earned an Academy Award nomination for Best Actress. From 1929-1936, she reigned as cinema's "Gallant Lady." Her co-stars included Ronald Coleman, Mary Astor, Conrad Nagel, Leslie Howard, Melvyn Douglas, Richard Dix, and William Powell, among many others. Ann's ethereal quality belied a passionate nature. Her affairs with three remarkably talented and very married men associated with the film industry could have easily outraged fans and quashed her career. Theater visionary-director Jasper Deeter, Ann's life-long mentor, remarked that Ann was a master at hiding her childish, stubborn temperament. Friends of Ann's daughter, Jane Otto, claim that despite Ann's highly publicized custody battles, she was a detached mother. In the 1950s and 1960s, she appeared extensively on American television in series such as The Defenders (1961), Dr. Kildare (1961), Ben Casey (1961), Alfred Hitchcock Presents (1961), and Burke's Law (1963). Scott O'Brien's richly researched and illustrated biography draws heavily from Ann's family, friends, and personal papers. The book includes behind-the-scenes anecdotes, contemporary reviews, and synopses of Ann's films. He pays tribute to her career and unveils a complex portrait of one of stage and cinema's most remarkable talents.