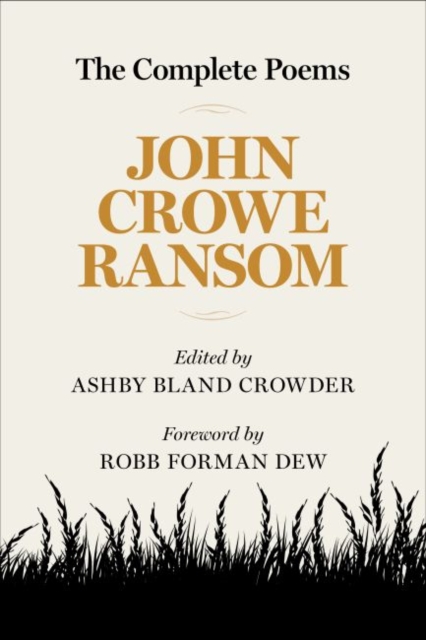 Complete Poems
Disponibilitate:
IN CURS DE PUBLICARE
(se va livra din

Marea Britanie

in 1-4 saptamani de la data publicarii: 30/10/2020)
Okian.ro este o LIBRARIE online de carte in limba engleza.
CITESTE MAI MULT
Detalii
Descriere RO
John Crowe Ransom distinguished himself as one of the South s foremost poets and literary critics of the twentieth century, cultivating a poetic style that celebrated rural, agrarian life as an antidote to the increasing complexity of modern society. In the process, he helped formulate a new method of literary analysis, the New Criticism, which advocated close reading of texts with attention to their form and internal meaning. His students included such prominent literary figures as Robert Penn Warren, Cleanth Brooks, Randall Jarrell, Robert Lowell, and E. L. Doctorow. Ransom s poetry, which he revised extensively throughout his lifetime, offers a concise representation of his ideas about art, life, and the vocation of poets.

The Complete Poems contains every poem that Ransom wrote, including his three books Poems About God, Chills and Fever, and Two Gentlemen in Bonds as well as the additional poems that appeared in the three editions of his Selected Poems, one of which won the National Book Award in 1964. The volume also collects poems that appeared only in newspapers and magazines, as well as a handful of unpublished poems that Ransom left in manuscript at the time of his death.

This variorum edition establishes the definitive text of each poem, collating Ransom s elaborate revisions. Detailed annotations identify sources, parse obscure allusions, and highlight the archaic language that constitutes a significant aspect of Ransom s poetic technique. The volume also contains introductions to each of Ransom s separately published volumes, giving the background of their composition and an account of their contemporary reception. Edited by Ashby Bland Crowder, this volume constitutes a definitive scholarly edition of John Crowe Ransom s poetry, providing an essential resource for the study of twentieth-century American literature.

"