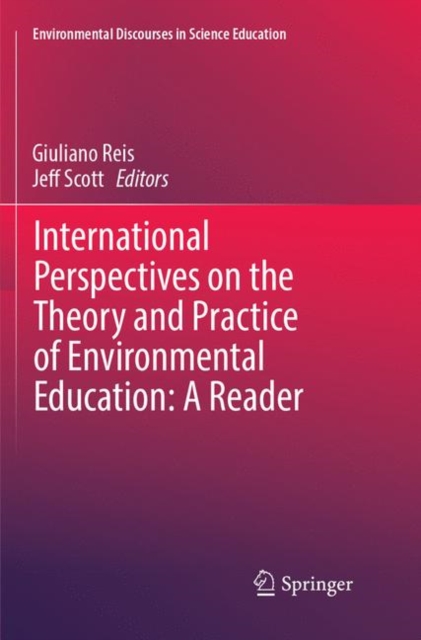 International Perspectives on the Theory and Practice of Environmental Education: A Reader
Disponibilitate:
LIVRARE IN 3-5 SAPTAMANI
(produsul este livrat din

Marea Britanie

)
Okian.ro este o LIBRARIE online de carte in limba engleza.
CITESTE MAI MULT
Detalii
Descriere RO
The present book shares critical perspectives on the conceptualization, implementation, discourses, policies, and alternative practices of environmental education (EE) for diverse and unique groups of learners in a variety of international educational settings. Each contribution offers insights on the authors' own processes of re-imagining an education in/about/for the environment that are realized through their teaching, research and other ways of "doing" EE. Overall, environmental education has been aimed at giving people a wider appreciation of the diversity of cultural and environmental systems around them as well as the urge to overcome existing problems. In this context, universities, schools, and community-based organizations struggle to promote sustainable environmental education practices geared toward the development of ecologically literate citizens in light of surmountable challenges of hyperconsumerism, environmental depletion and socioeconomic inequality. The extent that individuals within educational systems are expected to effectively respond to--as well as benefit from--a "greener" and more just world becomes paramount with the vision and analysis of different successes and challenges embodied by EE efforts worldwide. This book fosters conversations amongst researchers, teacher educators, schoolteachers, and community leaders in order to promote new international collaborations around current and potential forms of environmental education.

This book reflects many successful international projects and perspectives on the theory and praxis of environmental education. An eclectic mix of international scholars challenge environmental educators to engage issues of reconciliation of correspondences and difference across regions. In their own ways, authors stimulate critical conversations that seem pivotal for necessary re-imaginings of research and pedagogy across the grain of cultural and ecological realities, systematic barriers and reconceptualizations of environmental education. The book is most encouraging in that it works to expand the creative commons for progress in teaching, researching and doing environmental education in desperate times.

-- Paul Hart, Professor of Science and Environmental Education at the University of Regina (Canada), Melanson Award for outstanding contributions to environmental and outdoor education (Saskatchewan Outdoor and Environmental Education Association) and North American Association for Environmental Education (NAAEE)'s Jeske Award for Leadership and Service to the Field of EE and Outstanding Contributions to Research in EE.
In an attempt to overcome simplistic and fragmented views of doing Environmental Education in both formal and informal settings, the collected authors from several countries/continents present a wealth of cultural, social, political, artistic, pedagogical, and ethical perspectives that enrich our vision on the theoretical and practical foundations of the field. A remarkable book that I suggest all environmental educators, teacher educators, policy and curricular writers read and present to their students in order to foster dialogue around innovative ways of experiencing an education about/in/for the environment.
-- Rute Monteiro, Professor of Science Education, Universidade do Algarve/ University of Algarve (Portugal).