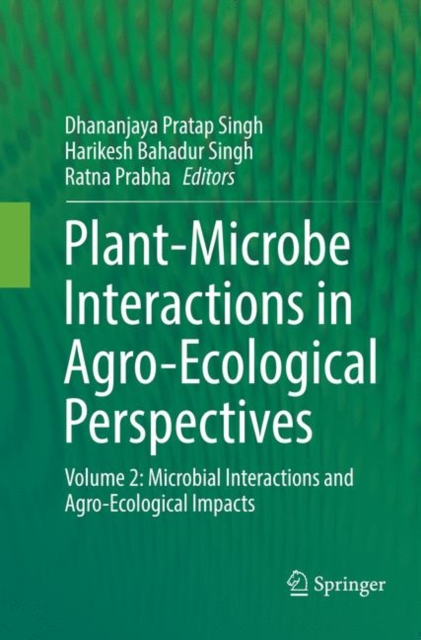 Plant-Microbe Interactions in Agro-Ecological Perspectives
Disponibilitate:
LIVRARE IN 3-5 SAPTAMANI
(produsul este livrat din

Marea Britanie

)
Okian.ro este o LIBRARIE online de carte in limba engleza.
CITESTE MAI MULT
Detalii
Descriere RO
This book puts an updated account on functional aspects of multiphasic microbial interactions within and between plants and their ecosystem. Multipronged interaction in the soil microbial communities with the plants constitute a relay of mechanisms that make profound changes in plant and its micro-environment in the rhizopshere at physiological, biochemical and molecular levels. In agro-ecological perspectives, such interactions are known to recycle nutrients and regulate signalling molecules, phytohormones and other small molecules that help plant growth and development. Such aspects are described deeply in this book taking examples from various crop plants and microbial systems. Authors described the most advantageous prospects of plant-microbe interaction in terms of inoculation of beneficial microorganisms (microbial inoculants) with the plants in which microbes proliferate in the root rhizosphere system and benefit plants' with definite functions like fixation of nitrogen, solubilization and mobilization of P, K, Zn and production of phytohormones. The subject of this book and the content presented herein has great relevance to the agro-ecological sustainability of crop plants with the help of microbial interactions.





The chapters presented focus on defining and assessing the impact of beneficial microbial interactions on different soils, crops and abiotic conditions. This volume entails about exploiting beneficial microbial interactions to help plants under abiotic conditions, microbe-mediated induced systemic tolerance, role of mycorrhizal interactions in improving plant tolerance against stresses, PGPR as nutrient mobilizers, phytostimulants, antagonists and biocontrol agents, plant interactions with Trichoderma and other bioagents for sustainable intensification in agriculture, cyanobacteria as PGPRs, plant microbiome for crop management and phytoremediation and rhizoremediation using microbial communities. The overall content entrust advanced knowledge and applicability of diversified biotechnological, techno-commercial and agro-ecological aspects of microbial interactions and inoculants as inputs, which upon inoculation with crop plants benefit them in multiple ways.