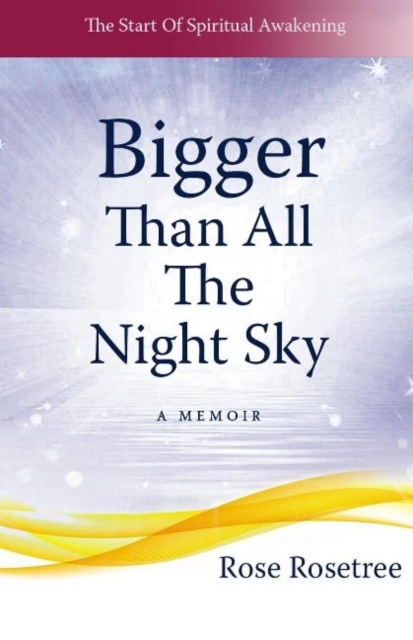 Bigger Than All The Night Sky
Disponibilitate:
LIVRARE IN 3-5 SAPTAMANI
(produsul este livrat din

Marea Britanie

)
Okian.ro este o LIBRARIE online de carte in limba engleza.
CITESTE MAI MULT
Detalii
Descriere RO
Why are you here?

Still struggling to understand the spiritual purpose of your life?

Finding that you just don't fit in the traditional religious and philosophical boxes?

You're in good company. For decades, Energy Spirituality pioneer Rose Rosetree shared the same yearning to understand herself and her greater purpose. She shares that unforgettable story in Bigger than All the Night Sky—a multi-layered, coming-of-age memoir designed to help you see your own sacred search through the lens of hers.

Spanning her life from birth to age 23, you'll follow every step of Rose's halting, stumbling journey of spiritual awakening—a journey replete with ever more colorful characters and vignettes, including…

Rose discovering her purpose at age five in the operating room, and promptly forgetting it for decades. Her teenage bedroom featuring the "pin-up" image of… Picasso's eyes. Her one-on-one encounters with Timothy Leary and Ram Dass. Becoming a highly insecure (yet inspired) TM initiator. Moving Maharishi Mahesh Yogi to tears.

As Rose describes, you and everyone else on the planet had a "Planning Meeting" before you were born, where Divine input shaped your life purpose. Uncovering that purpose isn't easy, but all authentic spiritual awakening can help, and Rose's discoveries leave you plenty of clues.

Bigger than All the Night Sky employs a "gradually-maturing-voice" style of writing as Rosetree herself evolves into her first job as a spiritual teacher. With its myriad teaching tales and universal truths—this one-of-a-kind life chronicle will resonate on many levels, while serving as a potent touchstone for your own spiritual journey.