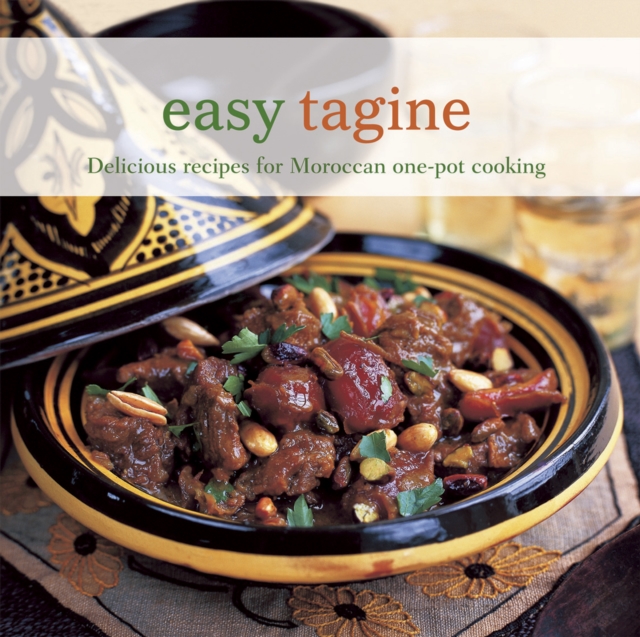 Easy Tagine : Delicious Recipes for Moroccan One-Pot Cooking
Disponibilitate:
LIVRARE IN 3-5 SAPTAMANI
(produsul este livrat din

Marea Britanie

)
Okian.ro este o LIBRARIE online de carte in limba engleza.
CITESTE MAI MULT
Detalii
Descriere RO
In this collection of aromatic tagines, salads, side dishes and sweet things, you'll be sure to find best-loved classics from the Moroccan kitchen. Traditional Lamb Tagines provides winning combinations of sumptuous flavours such as Lamb Tagine with Prunes, Apricots and Honey. Beef, Kefta and Sausage Tagines includes options such as Chorizo Tagine with Lentils and Fenugreek.

Chicken and Duck Tagines are delicious cooked with plenty of spice. Try a Duck Tagine with Pears and Cinnamon. Exciting Fish and Seafood Tagines include Tagine of Monkfish, Potatoes, Cherry Tomatoes and Black Olives.

Vegetable Tagines are brought to life with warm and tasty spices. Try a Tagine of Artichokes, Potatoes and Saffron. Traditional Couscous Dishes are perfect for a dinner party.

Try a Fish and Shellfish K'dra with Couscous. Roasts and Pan Fries are also delicious made with Moroccan spices. Try Char-grilled Quails with Kumquats.

Find the perfect accompaniment with Vegetable Side Dishes such as Honey-glazed Pumpkin with Spices. Soups and Small Bites contains great appetizers and snacks. Try a Rustic Tomato and Vegetable Soup with Ras-el-hanout.

Finally, Sweet Things and Drinks will make the perfect finishing touch to any Moroccan menu. Try Fresh Figs with Walnuts and Honey or a refreshing Mint Tea.