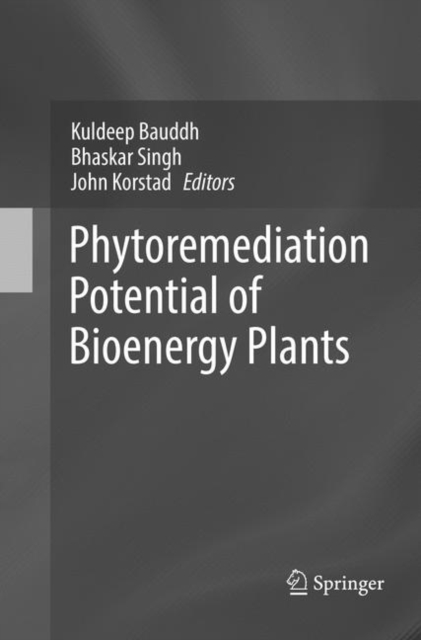 Phytoremediation Potential of Bioenergy Plants
Disponibilitate:
LIVRARE IN 3-5 SAPTAMANI
(produsul este livrat din

Marea Britanie

)
Okian.ro este o LIBRARIE online de carte in limba engleza.
CITESTE MAI MULT
Detalii
Descriere RO
The globally escalating population necessitates production of more goods and services to fulfil the expanding demands of human beings which resulted in urbanization and industrialization. Uncontrolled industrialization caused two major problems - energy crisis and accelerated environmental pollution throughout the world.

Presently, there are technologies which have been proposed or shown to tackle both the problems. Researchers continue to seek more cost effective and environmentally beneficial pathways for problem solving.


Plant kingdom comprises of species which have the potential to resolve the couple problem of pollution and energy.
Plants are considered as a potential feedstock for development of renewable energy through biofuels. Another important aspect of plants is their capacity to sequester carbon dioxide and absorb, degrade, and stabilize environmental pollutants such as heavy metals, poly-aromatic hydrocarbons, poly-aromatic biphenyls, radioactive materials, and other chemicals.
Thus, plants may be used to provide renewable energy generation and pollution mitigation.
An approach that could amalgamate the two aspects can be achieved through phytoremediation (using plants to clean up polluted soil and water), and subsequent generation of energy from the phyto-remediator plants. This would be a major advance in achieving sustainability that focuses on optimizing 'people' (social issues), 'planet' (environmental issues), and 'profit' (financial issues).
The "Phytoremediation-Cellulosic Biofuels" (PCB) process will be socially beneficial through reducing pollution impacts on people, ecologically beneficial through pollution abatement, and economically viable through providing revenue that supplies an energy source that is renewable and also provides less dependence on importing foreign energy (energy-independence). The utilization of green plants for pollution remediation and energy production will also tackle some other important global concerns like global climate change, ocean acidification, and land degradation through carbon sequestration, reduced emissions of other greenhouse gases, restoration of degraded lands and waters, and more.

This book addresses the overall potential of major plants that have the potential to fulfil the dual purposes of phytoremediation and energy generation. The non-edible bioenergy plants that are explored for this dual objective include Jatropha curcas, Ricinus communis, Leucaena leucocephalla, Milletia pinnata, Canabis sativa, Azadirachta indica, and Acacia nilotica.

The book addresses all possible aspects of phyto-remediaton and energy generation in a holistic way. The contributors are one of most authoritative experts in the field and have covered and compiled the best content most comprehensively. The book is going to be extremely useful for researchers in the area, research students, academicians and also for policy makers for an inclusive understanding and assessment of potential in plant kingdom to solve the dual problem of energy and pollution.