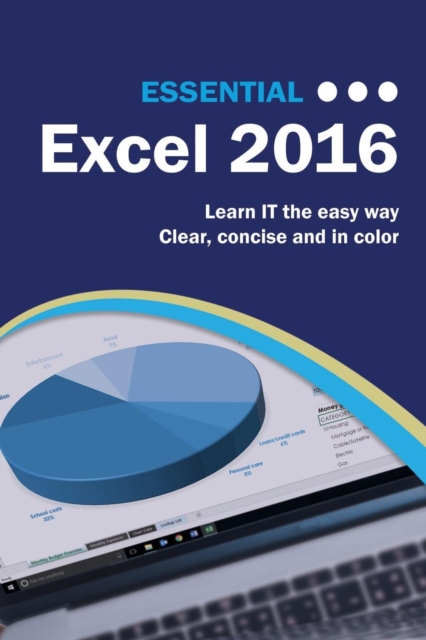 Essential Excel 2016
Disponibilitate:
LIVRARE IN 3-5 SAPTAMANI
(produsul este livrat din

Marea Britanie

)
Okian.ro este o LIBRARIE online de carte in limba engleza.
CITESTE MAI MULT
Detalii
Descriere RO
Whether you're upgrading from a previous version or using it for the first time, this book will guide you through Microsoft Excel 2016 one step at a time, to help you understand the software more quickly and easily!


Great for beginners, a computing class, or as an update. Step-by-step, visual approach to help you quickly master Microsoft Excel Plenty of full color, illustrated screenshots and photographs to help you Presented in an easy and simple to read format, written in jargon free English Learn how to use and navigate Excel 2016, the latest update to Microsoft's Spreadsheet Application. With full color screen prints, photographs and illustrations, this guide explores...


Starting Excel, ribbon menus and the BackStage Building spreadsheets, entering data, importing data and formatting text Formatting spreadsheets with borders, text orientations, colors and highlights Conditional formatting Building formulas to manipulate data Using built in functions to add up, average and count data Using Lookup and IF functions Creating charts from spreadsheet data and customising chart layouts. Working with workbooks, opening, saving, and printing Basic File Management Data analysis using goal seek, scenarios, forecasts, pivot tables and charts Data validation techniques to help keep entered data accurate and more... Techniques are illustrated step-by-step, using photography and screen prints throughout, together with concise, easy to follow text from an established expert in the field.

Whether you are new to Microsoft Excel, upgrading, or an experienced user needing an update, this book will provide you with a firm grasp of the underpinning foundations and equip you with the skills needed to use Word effectively and productively.