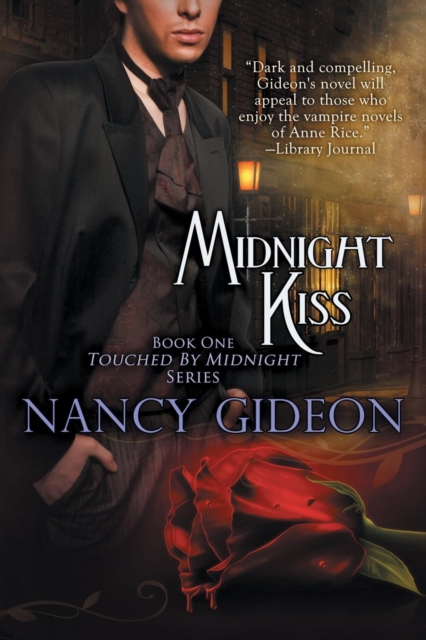 Midnight Kiss
Disponibilitate:
LIVRARE IN 3-5 SAPTAMANI
(produsul este livrat din

Marea Britanie

)
Okian.ro este o LIBRARIE online de carte in limba engleza.
CITESTE MAI MULT
Detalii
Descriere RO
"Dark and compelling, Gideon's novel will appeal to those who enjoy the vampire novels of Anne Rice." -Library Journal
"A colorful and hauntingly beautiful tale of otherworldly love . . . destined to become a classic!"-Affaire de Coeur
"Incredible, spellbinding reading!" -Rendezvous
Hunt or be hunted . . . A centuries old obsession stalks a noble family fighting to hide their dark secret from an ever-changing world. Sink your teeth into Nancy Gideon's Touched by Midnight series.
A DARK CURSE
Miss Arabella Howland is content forgo the London marriage mill to assist her father in his research, especially when it comes to his intriguing patient, Louis Radman. But it's not long before Bella's curiosity alerts her to the danger of her father's work . . . and to the fact that Louis is not who or what he seems.
A BRIGHT PROMISE
After centuries struggling with his vile existence, Louis Radman will soon be free of his affliction, thanks to his very capable physician. Unfortunately, his heart is less secure around the man's tempting daughter. His yearning to walk in the light once more is complicated by his desire for the delightful Bella, who is as intelligent as she is fearless. But if history has taught him anything, it's not to tempt fate.
AN UNFORGIVING PAST
Still, happiness has a price and Louis is soon reminded that mortality comes with unfortunate limitations. To protect his new bride, he must face the demons from his past who wish to pull him back into their vampiric fold.
Yet, if he's forced to return to his midnight world, will he lose his beloved Bella forever?
Nancy Gideon is the award-winning author of over 55 novels ranging from historical and contemporary suspense to paranormal, including her "Touched by Midnight" vampire romance series, with a couple of horror screenplays thrown into the mix. When not at the keyboard or working full time as a legal assistant, she can be found feeding her addictions for Netflix and all things fur, feather and fin in Southwestern Michigan. For more on Nancy visit
http://nancygideon.com
and
http://nancygideon.blogspot.com